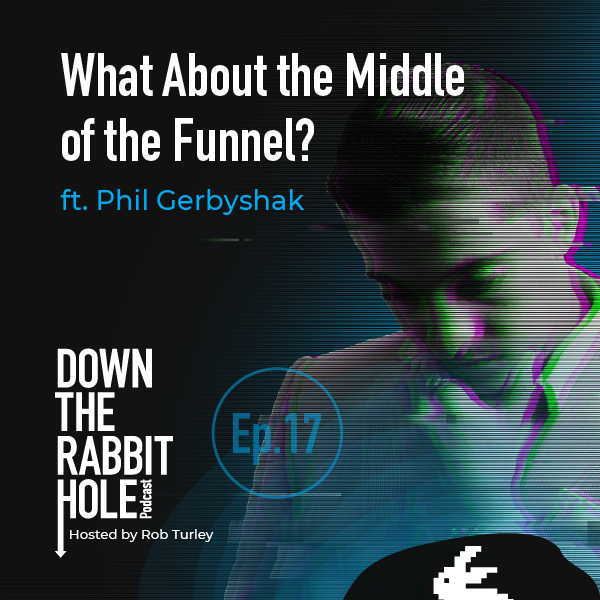 DTRH Ep.17:

What About the Middle of the Funnel? - Feat. Phil Gerbyshak 
Whatever happened to the middle of the sales funnel? That's right, the "messy middle." The part of the sales funnel where we have to keep relationships alive, even when they don't result in immediate new business.

Learn to navigate one of the most ignored parts of the sales process where much of what goes on—is truly organic and constantly changing.
Episode Summary 
In today's episode of Down The Rabbit Hole, your host, Rob Turley, Co-Founder & Co-CEO at White Rabbit Intel, delves deep into the mind of Phil Gerbyshak to navigate the infamous "messy middle" muahahaha!
The Middle of the funnel is the greatest weakness for the majority of salespeople. Even more so than closing. That's right—more difficult to navigate than the close.
Listen to the discussion between Rob & Phile that will help you understand how to effectively navigate the sea between the open and close so you can drive up your number of proposal opportunities and close-ratio!
About Phil 
Phil Gerbyshak knows sales. Phil is a sales speaker, executive, expert, leader, mentor, podcaster, and coach.
Phil has written five books, more than 3,000 articles, and has been quoted in the Wall Street Journal, Daily Globe, Financial Times, Investor's Business Daily, Inc. Magazine, and many other publications.
Phil's been on three covers, including earning three covers: Speaker Magazine, Marketing Media and Money, and Social Selling Made Easy. Recently he was recognized as one of 25 Sales Leaders to follow by Crunchbase.
Phil is currently the Chief Revenue Officer and Partner at Process and Results, LLC, where he and his team help tech agencies and SaaS businesses sell more. They specialize in sales and SalesOps so that teams can stay focused on what they do best.
Feel free to connect with Phil Gerbyshak or Rob Turley on LinkedIn, or Follow Susy @susyrosado and Rob @RobTurley2 on Twitter! 
#DTRHpodcast #FollowTheWhiteRabbit #Sales #SalesEnablement #Coaching #SalesTips